Cricket is a game that has been around in some shape or form for over 500 years, but the sport that we know it as today was created in the mid-1700s. Cricket in Ireland is something that has gone on to become very popular and there are now plenty of cricket fans across the Emerald Isle that enjoy watching and betting on this great sport. In the following review, we are going to take a look at the history of cricket in Ireland, the best Irish cricket players, and the best cricket betting sites for Irish. So, please keep reading if you would like to improve your cricket knowledge.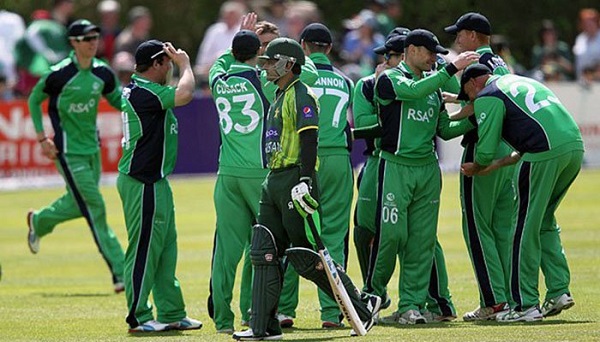 Cricket in Ireland
When people think of sports that are popular in Ireland they will automatically think of the likes of football, Gaelic football, and hurling. This is why most people are shocked to find out that cricket was the most popular sport in Ireland during the 1850s. Although it often took place on the properties of rich landowners, it was still very much seen as the people's game.
Nowadays, there are more than 50,000 Irish cricket fans playing in schools, universities, and clubs across the country. To give you some sort of idea as to how much cricket is growing, this figure stood at a little under 15,000 in 2007, which was the year Ireland beat Pakistan in the ICC World Cup. Cricket Ireland, which is the governing body in charge of cricket in Ireland now has five provincial strands across the country and is aiming on continuing to make the sport a lot more mainstream and improve youth participation.
In 2019, around 30,000 school children in Ireland were introduced to cricket through Cricket Ireland's cricket school program. One 1 in 5 who regularly play cricket are female, but this figure is only going to increase.
A Look at the History of Cricket in Ireland
Cricket came to the shores of Ireland in the 19th century when the British arrived for colonization purposes. Britain's vast Empire is actually the main reason why cricket has become so popular in many countries around the world.
In the 1830s, the love for cricket in Ireland started to spread and cricket clubs were built that still exist to this very day. There are now 32 Irish cricket clubs spread out across the country, and there is a good chance that this number will continue to grow in the future. Irish cricket had its first national team in 1855, and their first match was in Dublin against an English team. The first Irish cricket professional match came three years later against the Marylebone Cricket Club.
Cricket's popularity continued to grow, and in the 1880s the government announced that foreign sports were no longer allowed. However, many Irish cricket players ignored this and carried on playing and an Ireland team were sent to tour the US and Canada in 1888, 1892, and 1909. Their first win against a team from South Africa came in 1904.
The ban on foreign sports was eventually lifted in 1970 and 23 years later Ireland became associate members of the ICC, which meant that they were allowed to participate in the ICC Trophy. The came 7th in their first competition, but they did much better in the next one and only just missed out on playing at the 1999 Cricket World Cup. They finished second in the 2005 tournament, which meant that Irish cricket would be represented at the 2007 World Cup.
They had an amazing win over Pakistan in the Group Stage that saw them through to the Super 8 stage, where they beat Bangladesh. They also qualified for the 2011 World Cup, where they picked up the huge scalp of England in the Group Stage. It was this win against England that saw Irish cricket awarded ODI status, meaning they could mix it with the big boys more often.
In 2017, they were granted Full Member status thanks to their improvement in ODI cricket. This status now meant that they are eligible to play Test cricket. Their last Test match was against England at Lord's, the home of cricket, and although they lose, they put in a very good showing and made England sweat at times.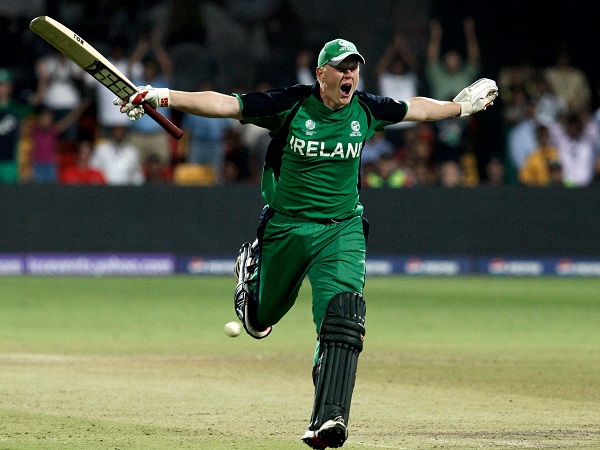 Ireland's Best Cricketers
Ireland have produced some decent cricketers over the years. In fact, Eoin Morgan, the captain of the England ODI team that won the World Cup in 2019, started off his cricket career playing for Ireland. Below we are going to have a look at some of Ireland's current best players.
Kevin O'Brien
O'Brien is perhaps most known out of Ireland as the man that put England to the sword in the 2011 World Cup. He hit a century from just 50 balls against them, which was the fastest hundred ever scored at the World Cup. He also has the distinction of being the first Irishman to score a Test century as well as being the first sportsman from Ireland to play for the Irish cricket team 300 times. If this was not enough, he was also the first ever player to pick up 100 ODI wickets for Ireland.
Throughout his career he has played 148 ODI matches for Ireland and has scored 3,592 (2 centuries) at an average of 30.44. He has collected 113 wickets at an average of 32.49. He has played 96 T20I matches for Ireland, in which he has scored 1,672 runs at an average of 21.16 and has picked up 58 wickets at an average of 19.55. At the age of 36, he can probably carry on playing for at least another couple of years.
William Porterfield
Porterfield has been a part of the Ireland cricket team since 2006 and has captained his country at all levels from u13s and up. He was the first Irishman to pass 1,000 T20I runs for Ireland, and he also has the distinction of being the first man to captain an Irish Test cricket side. He was also captaining the Ireland team when they claimed that massive victory over England in 2011. Like O'Brien, he has also notched up more than 300 matches for his country.
In his 139 ODI matches for Ireland, he has scored 4,091 runs (11 hundreds) at an average of 30.75. When it comes to T20I cricket, he has played 61 games and has scored 1,079 runs at an average of 20.35. He is 36 years of age now, so will probably stick around for another year or two.
Paul Stirling
Stirling is considered by many to be one of Ireland's best ever cricketers and he was recently made Ireland's vice-captain. In July 2019, in an ODI game against Zimbabwe, Stirling became Ireland's first ever player to make it pass the 4,000-run mark. He is one of six players that has a full-time contract with Cricket Ireland. As well as being great with the bat, he is also a dab hand with the ball too.
He has played 120 ODI matches for Ireland and has scored 4,277 runs (9 centuries) at an average of 37.19. He has collected 43 wickets at an average of 44.25 and has the best ODI bowling figures for Ireland - he picked up 6⁄55 against Afghanistan in March 2017. In the 78 T20I matches that he has played, he has scored 2,124 runs at an average of 29.91 and has picked up 17 wickets at an average of 36.17. At just 30 years of age, he has plenty of time to better his stats.
Boyd Rankin
Rankin has caused plenty of batsmen trouble throughout his career and this stems from that his height (2.03m) gives his bowling a distinctive bouncing action. He made his debut for Ireland in 2007, but in 2013 he changed allegiance and played for England. However, he did not make the cut and came back to play for Ireland. Many fans were in favour of telling him where to go, but Ireland do not have enough depth in quality to be able to turn away quality bowlers.
He has played 75 ODI matches for Ireland, and in those games, he has collected 106 wickets at an average of 27.87. He has also played 50 T20I matches and has collected 55 wickets at an impressive average of 22.16.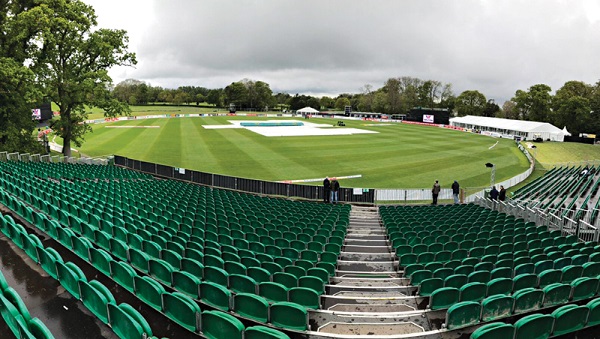 International Cricket Stadiums in Ireland
There are plenty of cricket grounds located around Ireland, but only four of them have been used for international cricket matches. Below we are going to take a quick look at these stadiums.
The Village, Malahide
This ground is where the Malahide Cricket Club play their home matches and it is Ireland's biggest cricketing venue with a capacity of 11,500. The first ever international match held here was against England on the 3rd of September 2013. England won the match by six wickets, with their captain Eoin Morgan hitting 124* on the ground that he used to call home during his youth. There have been 12 ODI centuries scored at this ground. It also has the distinction of being the ground where Ireland played their very first Test cricket match.
Castle Avenue Cricket Ground, Dublin
This ground is close to Clontarf Castle and it first hosted a cricket game over 60 years ago. It can fit in 3,200 spectators and was one of the venues that was used at the 1999 Cricket World Cup - it hosted the match between the West Indies and Bangladesh. The first ODI that Ireland played here was against the West Indies in July 2007. It was also selected to host a number of matches for the 2015 ICC World Twenty20 Qualifier. There have been 8 international ODI centuries scored at this ground.
Stormont, Belfast
Stormont is where the Civil Service North of Ireland Cricket Club play their home matches and it has a capacity of 6,000 fans. The ground was bult back in 1949, and it had the honour of hosting Ireland's first ever ODI match which was against England in June 2006. South Africa and India played an ODI series at this ground in 2007, while in 2008 it hosted the ICC World Twenty20 qualifying tournament. There have been seven ODI centuries scored at this venue since international matches started being played here.
Bready Cricket Club Ground, Magheramason
This is the home ground of Bready Cricket Club and it has a capacity of 3,000. It hosted its first international match in 2015 when Ireland took on Scotland in a T20I series. It was one of the hosts for the ICC World Twenty20 Qualifiers. The first ODI at this stadium was played on the 1st of July 2019 when Ireland played Zimbabwe. There have been two ODI centuries scored at this venue.
The Tournaments Played in Ireland
Inter-Provincial Championship

This is a 3-day tournament played between three provincial unions. It is similar to first-class cricket competitions in other countries such as the Sheffield Shield in Australia and the County Championship in England. The tournament's inaugural edition was in 2013 and it was played in different stadiums across the country.

It has been played every year since, but it was not until the 2017 tournament that the matches were given a first-class status. The three teams that play in this competition are the North West Warriors, Leinster Lightning, and Northern Knights. The teams play against each other twice, and whoever has the most points after all 6 matches have been played are crowned the winners. When it comes to titles, Leinster Lightning lead the way with 6, while the North West Warriors have won the title once. The Northern Knights are yet to pick up the trophy.
Inter-Provincial Trophy
This is a T20 tournament played between four provinces of Ireland. The tournament was first held in 2013 in venues across both the Republic of Ireland and Northern Ireland. The teams that compete in this competition are the North West Warriors, Northern Knights, Leinster Lightning, and Munster Reds. Each team plays each other twice, and when all eight games have been played, the team with the most points will be declared the champions.
Like in the first-class tournament above, Leinster Lightning have won the most titles, having won the competition five times. North West Warriors have won it once, while the other two teams are yet to get off the mark. However, the Munster Reds were only added to the competition in 2017.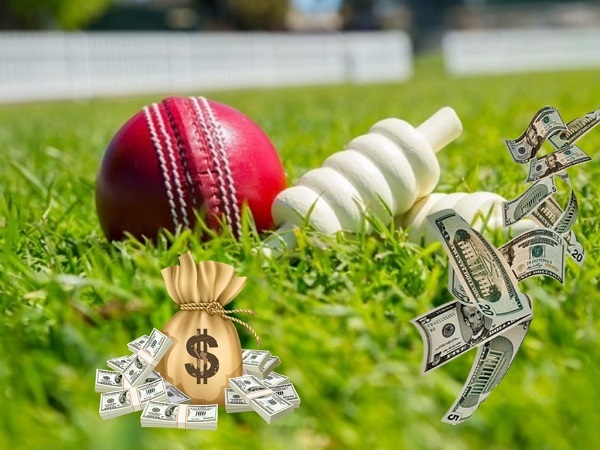 Betting on Cricket Online
The Irish, just like us Indians, really enjoy watching cricket. They also, just like us, enjoy betting on it. When it comes to Ireland cricket betting, it is fair to say that Ireland online cricket betting fans have plenty of cricket betting sites Ireland that they can open an account with to place their cricket bets.
When it comes to finding the best cricket betting sites for Irish, it can be a little bit tricky due to the fact that there are so many to choose from. It is a bit like going into a restaurant, picking up the menu, and finding 10 pages of delicious food - how are you meant to choose from that? Thankfully, there are many comparison sites out there that will help you to find the best cricket betting sites for Irish. These sites have hired their own experts that spend all their time researching the best online bookmakers so that they give their readers all the information that they need.
When you are looking for cricket betting sites Ireland so you can do some Ireland online cricket betting, there are plenty of things that you need to have a look at. For instance, you need to double check that the bookie has all the latest cricket betting innovations such as live and matched betting, mobile betting, a mobile app, and fast and secure payment methods. You then obviously need to make sure that they have a lot of cricket markets that you can place bets on and that they provide competitive odds for Ireland cricket betting. As well as all of this, you should check to see if their customer support is up to scratch and what kind of security levels they have.
Best Irish Cricket Betting Sites
So, what are some of the best cricket betting sites for Irish cricket betting fans? Well, in our view, Irish punters will not be disappointed if they open an account with Paddy Power. They will provide Irish cricket bettors will plenty of cricket markets and are not shy when it comes to offering competitive odds. What about fast payments and mobile betting? Well, we are sure that you will not have any issues with the speed of their payment methods as all of the best ones are available. When it comes to mobile gambling, you will be happy to hear that they have a mobile site that works just as well as their desktop site, giving you a great sports betting experience wherever you happen to be. They also have a great mobile app that we recommend you download if you decide to open an account with them.
However, Paddy Power are not the only great bookie available for Irish cricket bettors. Other great bookmakers that we recommend you take a look at include:
Betiton
Betway
Coral Hill
Unibet
Bet365
William Hill
Ladbrokes
We honestly believe that if you sign up with one of the aforementioned bookmakers that you will have the great sports betting experience that you are after.
How to Bet on Cricket
Betting on cricket, just like it is for any other sport out there, is relatively simple. We have outlined the process that you need to go through below. There will be a similar process at whatever bookmaker you decide to open an account with.
Sign into your bookmaker account and check that you have sufficient funds in your account
Scroll through their available sports until you find cricket, and click on it
Look through the matches and events that are due to be played and find a market that interests you
Click on it, and it will automatically be added to your betting slip
Decide how much you would like to stake and then input that figure in your betting slip
If you are happy with your bet and chosen stake, click the submit button - you have just placed a cricket bet
See, just like we said, the process is simple. If there are no cricket matches on and you would like to bet on another sport to keep yourself entertained, then the betting procedure that you need to follow is exactly the same.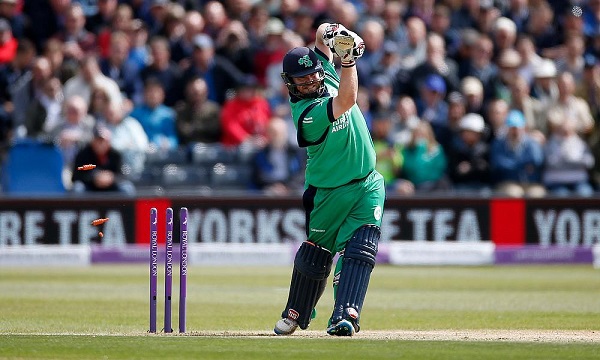 Cricket Betting Tips
Making mistakes is normal, it is what us humans do, but making the same mistakes over and over again when you are betting on cricket is only going to see you lose a lot of money. Below we are going to give you some cricket betting tips that you would do well to remember - these are also relevant for when you are betting on other sports that you like.
Do Not Alter Your Stake Size
Gambling is about making money and being able to manage your funds is a skill that every sports bettor needs to have if you want to be successful. One error that plenty of cricket bettors make is to alter their stake size depending on how well they are doing. This is something that you need to avoid - you should never double your wager and risk extra money when you are on a winning streak, and if you are going through a bad patch then never ever try to earn back your losses with one bet. You should always stick to a flat betting approach - this is a strategy where you need to bet the same wager each time and risk just 1-5% of your bankroll for each bet.
Do Not Get Carried Away
If a team is doing well in a league or competition, then many beginners will be eager to bet on them just due to the fact that they are doing well. Additionally, if a team is not doing well, then novice bettors will avoid them like the plague. However, this is not a wise move as it can see you miss out on tasty profits. How is this the case? Well, teams that are on a winning streak are usually undervalued by bookies. The bookmakers know that their customers will back them because of the form that they are in, so the odds are shaded. Thus, the only thing you get is a bad deal. The best advice that we can give you is to take the time to do your own research and make a plan and stick to it before betting.
Do Not Make Impulsive Decisions
It is always nice to show loyalty, but showing too much loyalty in the world of sports betting can see you lose plenty of money. The best team is not the one that you like, but the one that is most likely to win you some money. You should not put your hard-earned money on a team just because you happen to support them. If there is money involved, then you have to forget about your emotions and bet using your brain, not your heart. If the cricket team you like is going through a rough patch, simply just do not place a bet on them.
Never Dwell on Poor Decisions
A bad decision in the sports betting world can lead to lost money. Now, we know how annoying this can be, but getting upset and blaming yourself is not going to get you anywhere. Sometimes even the professionals make errors that can cost them money, so you should not be hard on yourself when you do the same. If you feel that Lady Luck is not smiling upon you, then simply walk away and bet another time. There are plenty of cricket events on throughout the year, so missing out betting on some of them is not going to cause you any harm.
Do Not Have Unrealistic Expectations
Many novice sports betting fans have expectations that exceed reality. We all would love to earn quick money while betting on cricket, but we live in the real world, not a fantasy one. If we lived in the latter, the whole world would place some bets on sports and retire decades early. If you start to bet on cricket with the belief that you will win all of your bets,then you are in for a world of hurt, our friend. You need to realise that there will be good days and bad days when cricket betting, and this is what makes the world of sport betting so exciting.
Do Not Bet on Everything
Betting on cricket is really entertaining, but there might come a time where there is no cricket on that you want to bet on, or you might simply just feel like betting on another sport. This is totally fine, but make sure that you bet on sports that you have some knowledge in. If you start betting on sports that you know little about, then the only thing that is going to happen is that you will lose your hard-earned money. If you do not know much about a sport but you want to place some bets on it, take the time to do some homework first. Research is very important if you want to be successful when betting on any sport.